Biography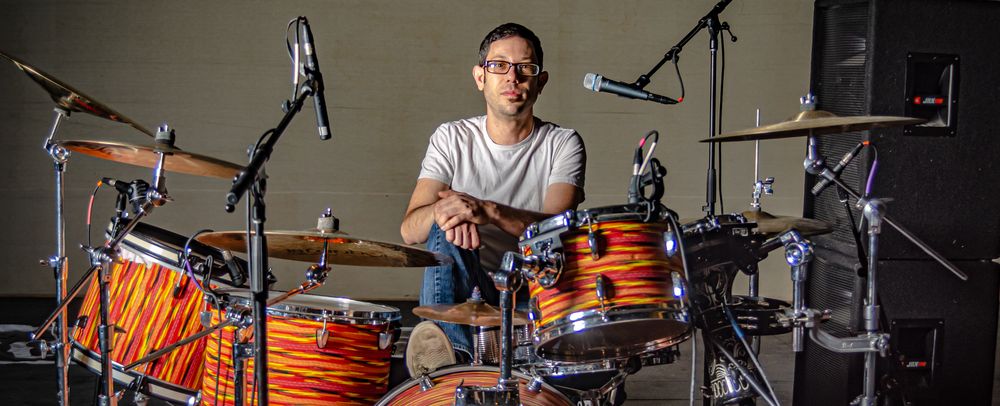 Jeff Tripoli
Drumming with Creativity, Imagination and Originality
Jeff Tripoli is an American musician raised in Syracuse, New York and has been performing drums, percussion and voice for over 30 years. He started making a living, playing in the clubs of Central New York, at age 17. 
On the road and in the studio, Tripoli has performed with many groups of various styles including Rock, Funk, Blues, Soul, Alternative, Bluegrass, Zydeco, Americana, Celtic, Folk and World. His drumming reflects a wide background of independent musical influences. The root of his dynamic framework resides the passion to provide fresh rhythms and artistic perspective. 
Tripoli has toured professionally for over 15 years throughout the United States, Canada and Europe. He has also performed at several major music festivals including Grey Fox Bluegrass Festival, The Great Blue Heron Music Festival, Fingerlakes Grassroots Festival, Shakori Hills Grassroots Festival and The Dublin Ohio Celtic Festival. 
Between 2015 and 2022, Tripoli performed full time with Vancouver, Canada based Celtic folk rockers, The Town Pants. TTP tours have spanned many major cities including Honolulu, Vancouver, Buffalo, Toronto and Dublin Ireland. Jeff also appears on The Town Pant's latest album, Something To Say, released in 2018.  
The Town Pants combine aspects of Irish traditional, folk-rock and roots-Americana. With decades worth of headlining Roots and Celtic festivals to selling out nights at rock venues, The Town Pants own brand of Celtic-Roots-Rock spans six studio albums and two live albums, backed up with a legendary live show that's garnered them from New York to Norway.  
There are many Celtic folk rock bands out there, but rarely does a band have this combination of passion, energy, animation, and spirit - which also makes for some of the most imaginative songwriting you'll find in the genre. 
In 2021, Jeff began to study with renowned Los Angeles based drummer and percussionist, Butch Norton. Tripoli's mentorship with Norton covers many aspects of drum set and percussion composition. Several points of focus include groove, feel, creativity, active listening skills, improvisation, recording technique and critical self awareness.  
Jeff released his first full length solo effort called Wabi Sabi. Tripoli's 2022 album offers in his unusual manner a wide variety of original drum set and percussion compositions. The album takes you on a journey through Tripoli's musical improvisations while experimenting with new sonic landscapes. It also reveals Tripoli's explorations deep into found sounds and self made instruments created in Tripoli's private studio.  
Personal expressions of psychedelic rhythms and musical collaborations are laid out in a pure and unfiltered form. The album was 1 year in the making and the production, performances and compositions are some of the finest and most detailed efforts captured of Tripoli's solo career so far. Tripoli performs most of the instruments with special guest appearances by Butch Norton (Lucinda Williams) and Jeff Tortora (Blue Man Group Las Vegas). Furthermore the record features some of the beautiful audio mixing by Jeff Moleski (Smashing Pumpkins).  
Jeff's upcoming solo release, "Perspectives", is set to be his next record and will include 10 original percussion compositions. Each tune will feature a special guest collaborator as well as an accompanying music video. This full length album brings new additions of Tripoli's homemade instruments and found sounds. Everything from mixing bowls to spoons, soup cans to paint cans, groan tubes to toy drums, pickle jar lids to bicycle racks.... EVEN THE KITCHEN SINK! 

In 2022, Tripoli joined Front & Main, a Soul Rock band based out of the crossroads of the Ithaca, Syracuse, and Binghamton, NY, music scenes. Collaborators Michael Wu and Paul Shotwell have gathered a slew of A-list musicians from across the region to bring their original compositions to life. Their songs range in influence from across the rock spectrum; ballads and upbeat rockers taking inspiration from multiple artists from classic rock to modern rock - all overlaid with Shotwell's smoky, soulful vocals.
Jeff currently performs with The Probables. An Americana group hailing from the rolling hills of Western New York, where their distinctive "Folkana-Roots-Rock" brand of music was born in 2016. Since that time, they have built a devoted, multi-demographic fanbase deriving from the strength of their fiery live performances.  
Formed initially as a string band fronted by veteran performer and songwriter Steve Johnson, the band's sound has since expanded to include a powerhouse rhythm section consisting of drummer Jeff Tripoli and electric bassist Jassen Wilber. Rounding out the lineup is mandolin maestro and vocalist Adam Mckillip, and multi-instrumentalist Matt Gronquist on fiddle, electric guitar and Hammond Organ. The result is a multi-faceted soundscape infused with elements of Folk, Rock, Reggae, Bluegrass, and Funk, with Johnson's introspective and infectious songwriting serving as the unifying element.